Updated September 2022
Although we are famous for our fabulous beaches, we also wanted to share 7 beautiful parks in Santa Barbara, CA, you won't want to miss. These parks (almost 40 of them) are more than just green spaces for leisurely strolls. There's a wonderful variety that includes  beaches, parks for recreational sports, and smaller parks within communities and neighborhoods. These are some of our favorites.
Shoreline Drive & Santa Rosa PL, Santa Barbara
Shoreline Park is one of the most popular and iconic spaces in Santa Barbara. It is a walker's dream! It's over 14 miles along a coastal bluff with stairs leading down to the beach. The park has one of the best views of the harbor, coast, and islands. There are paved paths with room for playing frisbee or skating. Follow the wooden steps down to the beach to explore a not-so-secret beach with tidal pools at low tide. Watch carefully for dolphins, often in groups of three. Use your binoculars to watch further out and you may see the tail of a whale!
1500 Santa Barbara St, Santa Barbara
The Alice Keck Park Memorial Garden is what is known as a passive park. This type of park refers to its purpose for leisurely activities (not sports, biking, or skating). Its location was formerly at the El Mirasol Hotel and is known as Santa Barbara's crown jewel of city parks. The park has a lush garden with a large koi pond. There are more than 75 different tree and plant species with trails for meandering through it. Posts with auditory descriptions can be activated by a mere touch. With such beautiful landscaping, it's not surprising this park is a favorite photo op for wedding party photos.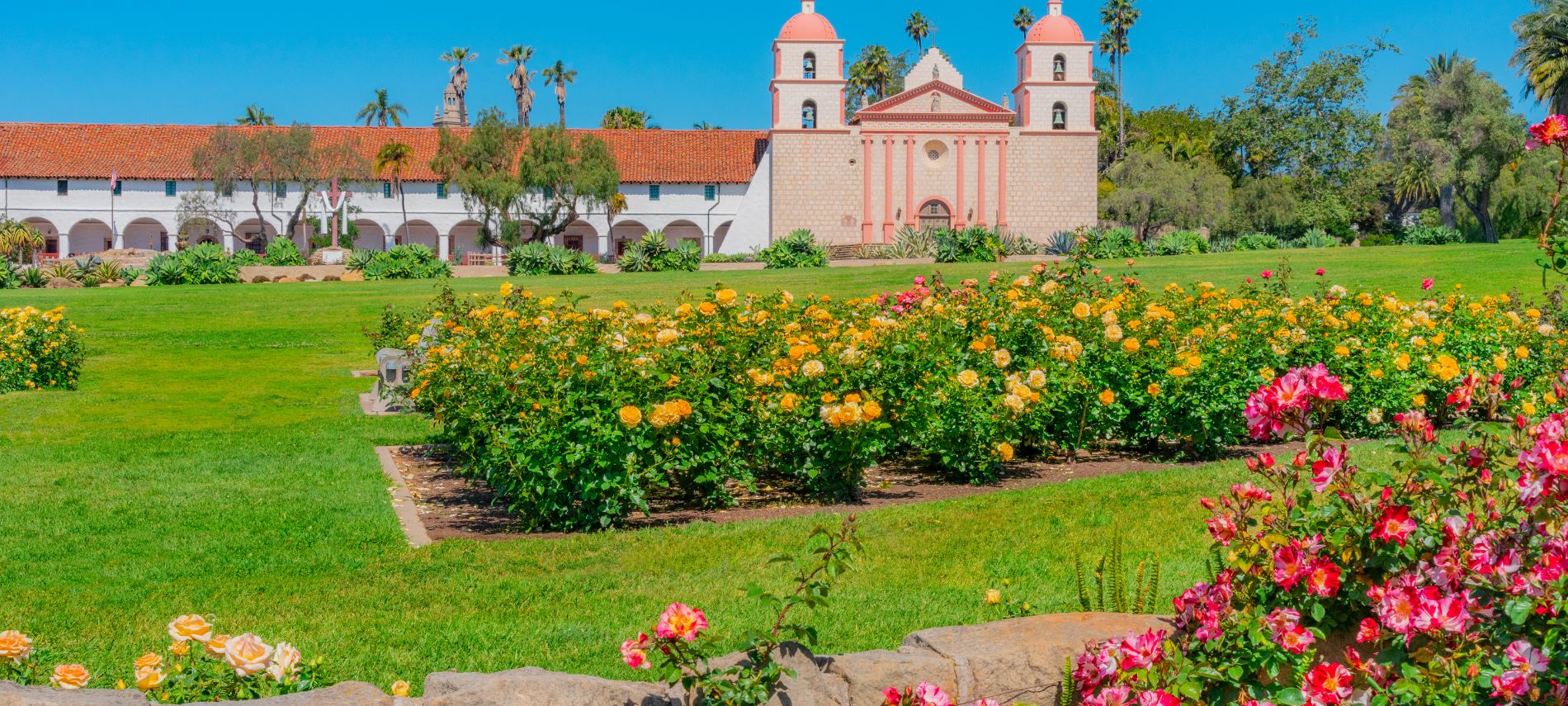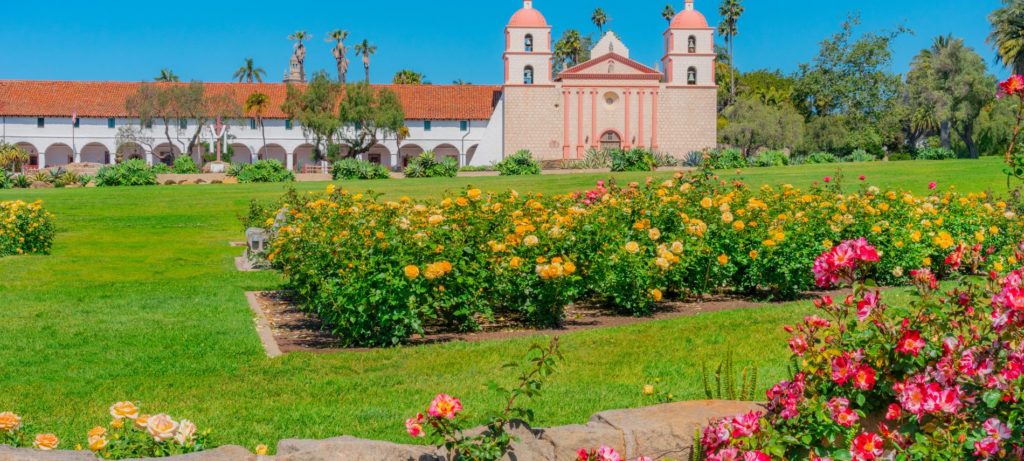 502 E Los Olivos St, Santa Barbara
The Mission Historical Park is located just a short walk from the Historic Old Mission. It is the site of the old reservoir, aqueduct, grist mill, pottery, and other mission work buildings. Nowadays, the park's southern area is best known for its large garden, the A.C. Postel Memorial Rose Garden. The garden is home to over 1500 rose bushes. When they're in bloom, it create a glorious location for weddings and events.
236 E Cabrillo Blvd, Santa Barbara
Chase Palm Park is another beach park. The park is made up of two areas on either side of Cabrillo Boulevard. Experience amazing ocean views on one side and vast mountain vistas on the other. The walk is lined with palm trees. On the ocean side, a bike path/walkway joins East Beach with Stearns Wharf with weekly arts and crafts shows. On the mountainside of the road, a 10-acre section of the park hosts fountains, a skateboard park, and a shipwreck playground. It also offers the stage where city-run free concerts are held during the summer months.
1100 Anacapa St, Santa Barbara
The Sunken Gardens offer a quiet oasis in the hustle and bustle of downtown Santa Barbara. The gardens surround the Courthouse, which was built in 1929. It has been designated as a Historic Landmark. The building is considered one of the grandest Spanish Colonia Revival structures ever built. The gardens are meticulously maintained, with palms and specimen trees from over 25 different countries. Explore the Clock Tower while there to see the 360° view. The gardens are host to a summer film series, but it is truly a great place for picnics year-round.
2981 Cliff Dr, Santa Barbara
The Arroyo Burro Beach Park is known by the locals as Hendrys Beach. It is an excellent place for paddleboarding and surfing. It's also among our favorite local beaches. Explore the trails to spend some time bird-watching. A bonus is that there is plenty of room for parking.
1510 Franceschi Rd, Santa Barbara
Franceschi Park was originally the home of famed botanist Francesco Franceschi. There are 15 acres with spectacular cliffside views of Santa Barbara, the ocean, and the Channel Islands. The plantings within the park reflect a Mediterranean aesthetic that is popular today.
With historical, botanical, and recreational features, our list of 7 parks in Santa Barbara are certainly worth a visit. Start planning today! Our luxurious rooms and amenities are sure to offer a relaxing place to rest after strolling through these parks. If you're interested in other activities, we have also prepared a fun-filled 3-day itinerary — all you need to do is pack your bags and come. If you need further assistance, don't hesitate to call. We're happy to help!