Whether it's a leisurely morning ride for breakfast, an afternoon ripping up the mountains, or a full day winding from vineyard to vineyard, cycling in Santa Barbara, CA, is the best way to enjoy this area dubbed, "The American Riviera." And the Eagle Inn is always pleased to offer free bicycle use for our guests.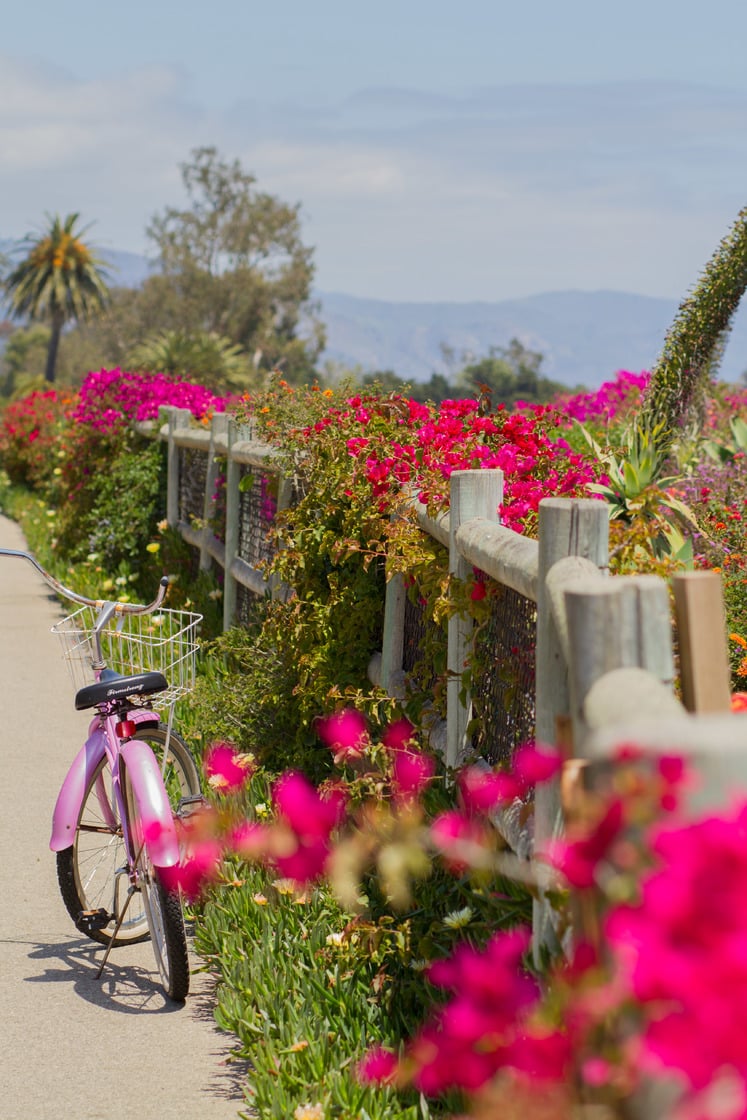 6-Mile Round Trip Ride – Right outside our door is one of the city's most popular bike trails going from Stearns Wharf to Mission Santa Barbara. The six-mile round-trip route takes you to the scenic, historical mission, as well as to popular city parks.
9-Mile Round Trip Ride – Not to be missed on the flatlands is the ocean-hugging Cabrillo Bike Path. This route may not leave you breathless, but the scenery certainly will, as the turnaround point is at Butterfly Beach.
Advanced Mountain Ride – More adventurous souls who prefer mountain biking will love the terrain options available at the city's Elings Park. The advanced cyclists who tackle the rugged mountains that surround Santa Barbara are always rewarded with stupendous, sweeping views of the valley and ocean.
Winding Winery Ride – But for a truly fun and tasteful time, explore the wine country of Santa Barbara by bicycle. The Santa Barbara Wine Country Cycling Tours is the perfect option for a guided adventure that leads you through the scenic countryside offering intimate glimpses – and tastings – at some of the region's premier wineries. For over 15 years the owners have been offering rides and hikes, and even horseback rides, to people who want to experience the beauty of the region.
The highlight of each day trip is a delicious farm-to-table lunch created with the fresh food found at the Solvang Farmer's market. Mileage varies depending on your desires. Easy rides vary from 10-15 miles of flat land to challenging rides that take in 50+ miles in one day. Multiple day trips include many options and are a revealing way to experience the community. Like many bike shops in the area, SB Wine Country also offers bicycle rentals for people who may want technically savvy bikes for their cycling pleasure.
Bike-Friendly Santa Barbara – Wherever you decide to travel, the overall community is committed to being bike-friendly. Signs and bike paths are evident. And the county's interactive bike map is a perfect place to start planning your adventure. It's informative and available for free online, downloaded through an app or can be purchased at many area stores. Not only does it have detailed paths, it also includes a list of area bike shops and tips for traversing the terrains.