Santa Barbara's beauty is well documented, with the Pacific's sparkling blue expanse dominating most images. The beaches of Santa Barbara are where families gather, lovers swoon, and athletes of all abilities and sports indulge their workouts. Surfers, runners, volleyball players… However, where the coast and the land embrace is a magical arena that must be experienced to be truly appreciated. And each beach has its own special appeal. In no particular order, here are the top 5 beaches in Santa Barbara, CA.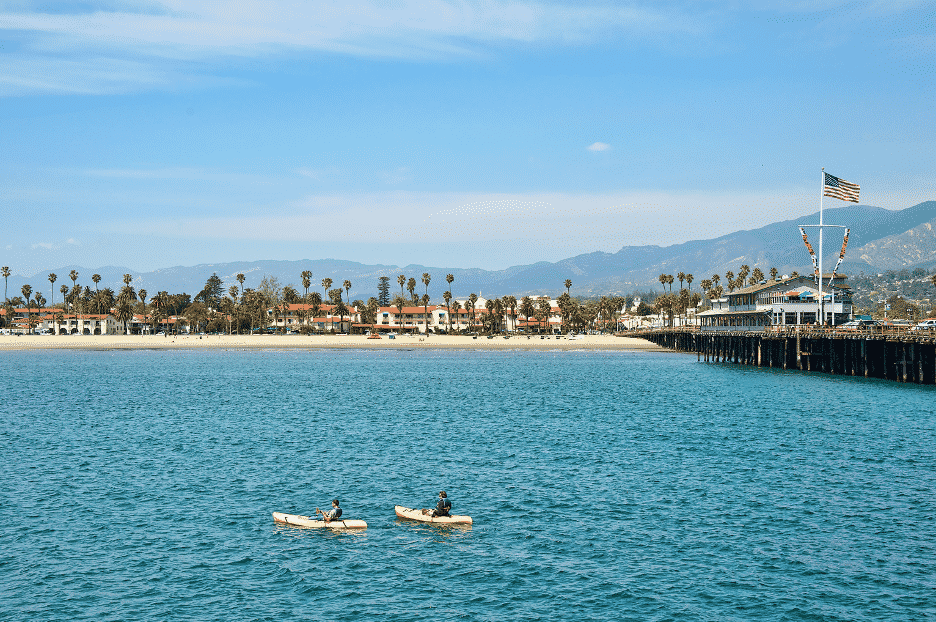 1. West Beach
This amazing expanse, right outside our door, continually amazes us. The people-watching is as wonderful as the water. Sunbathers, volleyball players, windsurfers, kayakers, stand-up paddle boarders and bicyclists adorn this sandy swath. With the harbor, Stearns Wharf, as a focal point, West Beach is a beach with action. It's not the best place for swimming, but it is the best place to see the California lifestyle in full swing.
2. Thousand Steps Beach
Not really 1,000 – more like 150 concrete steps – but it's worth every step to descend into this nook of beautiful beach in the East Mesa area of Santa Barbara. With its steep sandstone cliffs that capture the golden glimmers of the sun throughout the day, this beach is a picture-perfect rendition of a California beach. There's not much traditional swimming here, but it's perfect for surfing, walking, and tide-pool exploring during low tide. Sea anemones, mussels, small fish and a crab or two can be seen in the rock's crooks and crannies. Wear sneakers that can get wet as waves have a mind of their own. If you continue walking west, there is another stairway that climbs out from Mesa Lane Beach. Check the tide table, as high-tide often engulfs these area beaches.
3. Summerland Beach
Located east of Santa Barbara, this broad expanse of beach is located just below the lovely Lookout Park in the tiny town of Summerland. This county-owned beach faces south and is long, walkable, and at certain times of the year, can be filled with driftwood and seaweed. It's a perfect place to see the Channel Islands, a picturesque National Park that comprises five islands and the ocean surrounding the islands.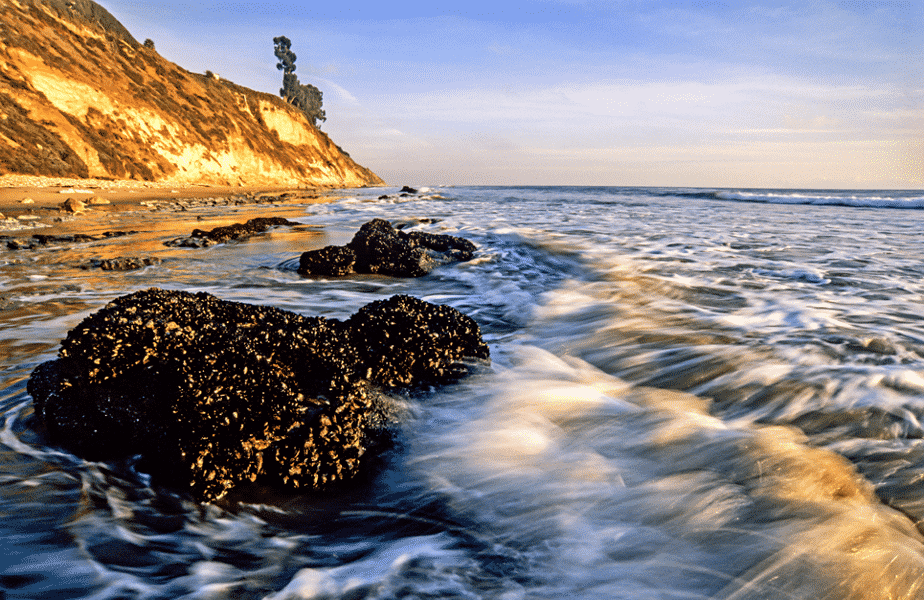 4. Arroyo Burro Beach County Park
Hendry's to the locals, this beach has it all – even for people who think they don't want to spend a day at the beach. The trails at the top of the beach bluffs sport a variety of protected flora and fauna and are popular with runners and hikers, as well as walkers. The Douglas Family Preserve is a 70-acre wooded area that was preserved by Santa Barbara residents after the long-established Wilcox Nursery closed in 1972. Actor Michael Douglas named it in honor of his father, Kirk Douglas. The paths are numerous and offer sweeping views of the ocean as well as educational programs in the center. The beach itself is wide and also nice for walking. It's always a thrill to watch hang gliders who've taken off from nearby Elings Park. Swimming is fine on most days, but sometimes the creek flow washes onto the beaches and becomes unsanitary. It's always a good idea to check with the lifeguards before jumping in the water.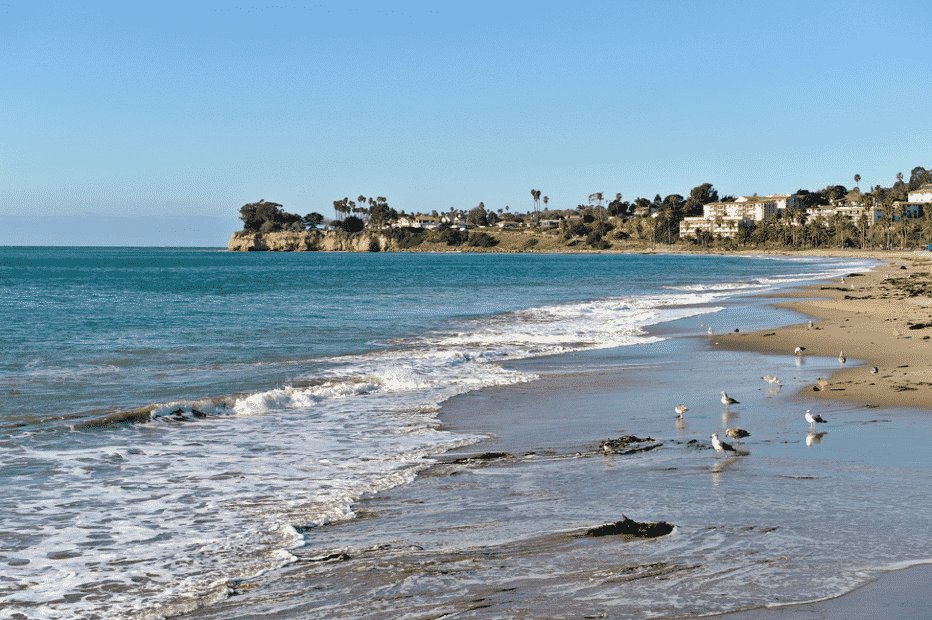 5. Leadbetter Beach
A favorite of the locals, this wide sandy beach is the perfect destination for a day filled with swimming, sunscreen, and sand castle-building. Offering lifeguards, restrooms and showers, Leadbetter makes a day at the beach even more enjoyable. Located right across the street from Santa Barbara Community College, you'll find a younger vibe when school is in session, but there's plenty of room for people of all ages to enjoy this shoreline destination. Many visitors also enjoy lunch at the Shoreline Beach Café, located in the center of the beach. You can even get take-out and enjoy your meal sand-free by heading to Shoreline Park on the west end of Leadbetter.
Remember, for any information about a beach visit, just ask at the front desk of the Eagle Inn. As residents of the area we not only know the ins and outs of visiting the beaches, we love sharing that information with our guests.