Would you like to enjoy an exciting time on the golf course while in Santa Barbara? While there are many courses to choose from, be sure to check out the Sandpiper Golf Course. Golf enthusiasts have been playing rounds of golf here since it opened in 1972. It's the perfect location for a golf getaway, and it's guaranteed to sharpen your golf skills. Here are 5 reasons to golf at Sandpiper Golf Course.
1) The Sun and Beautiful Weather
Santa Barbara is considered one of the most comfortable places to be in California. On average, there are 283 sunny days. That means you can anticipate a pleasant and sunny day as you tour the course. Take a peek at what's waiting for you. Golf Course Gallery | Public Golf Course Near Santa Barbara, Goleta, Isla Vista, Hope Ranch, CA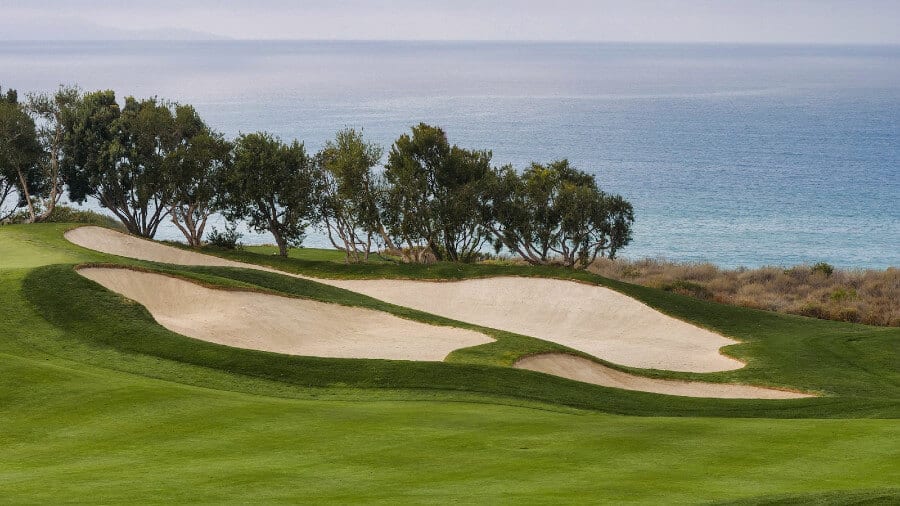 2) Spectacular Views
The Sandpiper Golf Course has the most spectacular views as it hugs the edge of the Pacific Ocean. At every hole you can feast your eyes on the breathtaking backdrop of the ocean and the Santa Ynez Mountains.
3) A Course for Everyone to Enjoy
Sandpiper has hosted several PGA and LPGA professional tournaments, which means you can appreciate the skill of top-class golfers as they test this course. The course is challenging, and some of the holes are long, even from the middle tees. The longest, hole 15, is a whopping 599 yards from the back tee. Regarding the greens, anticipate some to be fast and some slow. They are also relatively flat with minimal breaks. And water hazards are kept at a minimum.
However, most people aren't golf professionals. They're looking more for a fun day out on the course with friends, which is what  makes Sandpiper such a great choice. Golfers of all skill levels will appreciate the design of this course. So if you love golf but describe yourself as a hacker, this is a very forgiving course. Here's a virtual tour of each hole of the course to give you a head start. Course Tour
4) Friendly Staff and Amenities
You'll find the staff here to be helpful and friendly. In fact, don't be surprised if the attendants help with your clubs before and after playing a round of golf. If you want to break up the front and back nine and get a bite to eat, you can stop in at the cozy clubhouse. You'll find a  high-quality lounge for a refreshing boost of energy.
5) Convenient Location
Isn't it true that you don't want to spend an hour driving each way in heavy traffic to get to the course? Packing up your clubs and heading to Sandpiper is an escape for you, a time to be used for relaxation and enjoyment. Fortunately, Sandpiper Golf Course is a short 15 minutes drive from The Eagle Inn. That's probably just enough time to build excitement and plan a strategy.
During your stay at The Eagle Inn, you'll receive a freshly cooked hot breakfast every morning – a good start for a great day of golf.
At the end of the day, , you probably want to sit back and relax with a nice, cold beer. There are plenty of breweries with takeout. Isn't that a great way to enjoy a relaxing evening, especially if you have a room with a whirlpool tub? You can have confidence that your day will be a success. Even if you didn't make a hole in one, you have aced the day.