Updated January 2023
We've created your Santa Barbara Craft Brewery Guide. Our craft beer scene is roaring seven days a week, pouring everything from tried and true pilsners to stouts and trendy specialty brews, including sours and small unfiltered batches. The options abound, so designate a driver or call a ride service and enjoy!
Laid-Back Santa Barbara Vibe
The atmosphere may set the breweries apart, but all embrace a good time with good people. The laid-back attitude of Santa Barbara gives brewers, bartenders, and even the owners (sometimes one person is all three!) the opportunity to chat with visitors, talk about the craft, and share stories about their experiences in the trade. These encounters often reveal Santa Barbara values – local fun, quality drinks, and a friendly meeting of like-minded folks.
Here's our recommended list of Santa Barbara craft breweries.
Third Window Brewing
406 E Haley St
Santa Barbara CA
Third Window Brewing is known for creating quality brews using local ingredients based on a European style, particularly in Belgium.  The atmosphere is total California, with a roomy outdoor patio that is pet-friendly. Limited but delicious food is available, and reviews especially praise the burgers.
Brass Bear Brewing and Bistro
28 Anacapa St
Santa Barbara CA
A husband and wife team started Brass Bear Brewing and Bistro when they left New York to travel and open a brewery. Luckily, they ended up in Santa Barbara. Even better, their location is steps from the beach. Try their Goldilocks Blonde or Blood Orange Ale while savoring some of their high-level bites. Parents can sip their brew peacefully while their children have fun in their own designated kid's area.
The Brewhouse
229 W Montecito St
Santa Barbara CA
The Brewhouse prides itself in having the freshest beer, with all of it being brewed steps from where you drink it. They only brew in small batches using seven 201-gallon barrels. They have up to two dozen varieties on tap and a complete menu from appetizers to steaks. The menu for Sunday football is slightly different.
Figueroa Mountain Brewing Company
137 Anacapa St
Santa Barbara CA
Figueroa Mountain Brewing Company has seven locations in the region, including the Santa Barbara taproom. Here's why they're so popular. From their delicious 101 Blonde,  perfect for a day in the sun, to the Stearns Irish Stout, the array of beers can keep the tastings going all day. There are weekly events like Trivia nights, bingo, and wings.
Night Lizard Brewing Company
607 State St
Santa Barbara CA
Night Lizard Brewing Company is family-owned and operated. Commitment to the environment is an essential part of their mission. Each brew carries the name of an endangered California species, like Bush Mallow Blonde Ale and Spotted Owl Saison. For food, they have partnered with a local Mexican restaurant Yona Redz.
Institution Ale Company
516 State St
Santa Barbara CA
Institution Ale Company classifies their beers on tap as Light, Malty, or Hoppy. Their menu consists mainly of pizza — with highly-rated reviews. Favorites include Navigate the Maze (a Blonde Ale) and Relapse (an Imperial Red Rye). With games in the back, including shuffleboard, basketball, and darts, you'll experience a high-energized fun time.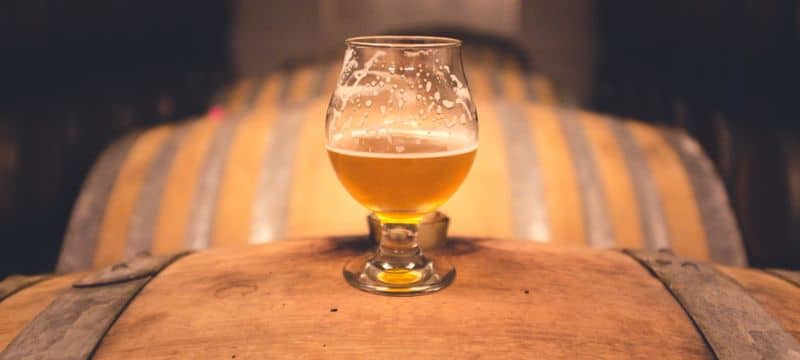 Draughtsman Aleworks
1131 State St
Santa Barbara CA
Draughtsman Aleworks has a super fun vibe, with many events and live entertainment. Their beer is carefully crafted using local ingredients and has won state-wide championships. Specifically, their Crimson and Clover, an Irish red, and Meat & Potatoes, a Porter, are California award winners. Their philosophy of good karma calls for returning a percentage of all sales to local non-profits.
Captain Fatty's Brewery
6489 Calle Real
Goleta CA
Captain Fatty's Brewery is known for its creative brews. Their quenching, tangy, and fresh Calypso Cucumber Sour and Samsour (sour ale with 2022 harvest Mourvedre grapes) are delicious examples of their style.
Topa Topa
120 Santa Barbara St
Santa Barbara CA
Topa Topa's Santa Barbara Taproom is located in the Funk Zone and shares a space with Fox Wine. Chief Peak IPA is one of their core beers that has tropical flavors and citrus notes giving it a refreshing and hoppy taste. Level Line Pale Ale is also popular with woodsy notes and citrus aromas. Their neighbor, the Nook, provides food to enjoy with your drinks.
Touring The Breweries
Overall, it's relatively easy to stroll around these neighborhood breweries. Start at one, and they will send you to the next destination. There was a Lagoon Loop beer app for a while, but we recommend waiting until you're in a brewery to inquire about it.
Our staff at Eagle Inn always has a thought or two on the best way to enjoy the area's craft beer. Just ask us! We love recommending our favorite stops or favorite brews.
Or, if you prefer to have the experts guide you, the Santa Barbara Craft Brewery Crawl has daily tours starting at 12:30 pm, with an option to purchase your lunch while you are on the tour.
The End of the Day
When you've finally drained that last pint and checked off your favorite taphouses from our Santa Barbara craft brewery guide, you know that your room at the Eagle Inn awaits your arrival. A soft pillow, well-appointed sheets, and a cozy comforter provide the perfect last stop of a successful brewery tour. Maybe tomorrow you can work off those brews with a hike or walk along the beach.