In many places of the country, doing most of the things on this list during winter would make people wonder about you. But the following is all happening in the warmth and under the sun of Santa Barbara. Sunny California affords you the opportunity to do some unique and exciting activities. Let's get started and examine 7 awesome outdoor things to do in Santa Barbara this winter.
1) Hiking
Day hiking in the Santa Barbara area allows you to see some beautiful California scenery. Some will lead you up to rugged peaks where you can gaze out over striking views of Santa Barbara and its vicinity. Others will have you meandering through shady, oak-studded canyons. As you take your trek, you may come across swimming holes to refresh yourself. There are waterfalls to excite you. And of course, wildlife sightings are always welcomed and are a bonus. Here are two interesting hikes for you to enjoy.
Round trip, this trail is a nine-mile hike that gains 2,674 feet in elevation. So expect a good workout. About halfway is an 80-foot high waterfall where you can cool off. It's the right spot to turn around if that much activity is not in your plans.
Anticipate stunning panoramic views of Santa Barbara and the ocean on this moderate 10-mile loop trail. If you like being alone with your partner, note that you won't have as many people on this trail. You'll appreciate the mild workout you get from the elevation rise of 2,000 feet as you proceed from the trailhead. But it's all downhill going back.
Would you like to get some close-up views of the ocean and Santa Barbara? And some good exercise too? Consider kayaking. It's a real adventure. Added to the thrill of being on the ocean is the possibility of catching sight of seals, sea lions, and of course, many marine birds.
If you're into adventure and would prefer not to hike or paddle, this is a great way to experience the outdoors. You can have an exciting time of off-road 4 wheeling. And the rental company takes care of everything.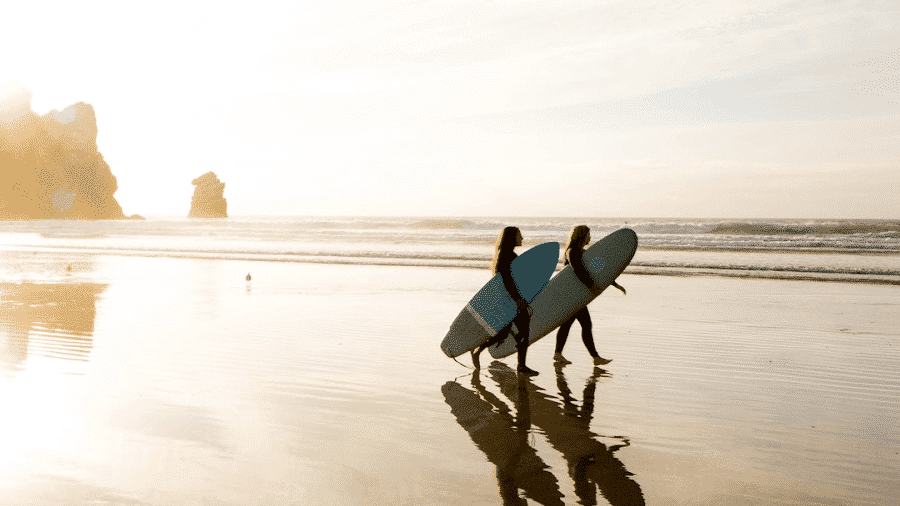 Because you're in sunny California, you can enjoy surfing even in the winter. And if the water is a bit cold, your wet suit will keep you warm. That's especially true since you're going to be expending energy. During the lessons, you'll learn the fundamentals and have the skills you need to have a great time.
Yes, you read this correctly. If you've ever watched trapeze artists at a circus, you may have secretly wanted to fly through the air like them. Now is your chance to be the circus performer. Plus, you will find out a lot about yourself. When it's all over, you'll have a sense of confidence you may not have had before.
This type of cycling is not about you peddling around town. Starting at La Cumbre Peak, an elevation of 3,995 feet, you'll ride for five hours and end your ride at a local Santa Barbara beach. The reward is excellent exercise and the very best Santa Barbara views
How do you feel about riding a horse? If you love horses, riding in Santa Barbara allows you to experience unique areas on your trusted steed. You'll get to see southern California from a different vantage point. Here are three outfitters that provide beach rides and trail rides.
Trying to do all seven of these ideas is a lot of activity. In reality, you may not have time to do them all on a short getaway. But you have lots of options. Every activity is unique, allows you to be safe with social distancing, and gives you exercise. And at the end of the day, if you and your partner are a little achy and tired from your full day, you can always line up a 60-minute massage to rub out the soreness. Plus, it includes a chilled bottle of sparkling wine! If you're a little disappointed that you didn't have time to do all that you wanted, you can always plan to come back. The Eagle Inn will be here for you.