Best B&Bs to Pop the Question
Specials & Packages: Winter Outdoor Adventures
How I Became an Innkeeper: The Grateful Bed
CABBI Cookbook Recipe: Double Chocolate Oatmeal Cookies
Sandpiper House Inn Two-Night Stay Winner
How I Became an Innkeeper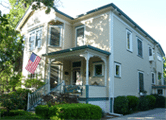 The Grateful Bed
by Carol Turner
In May of 1990, my husband, Rick and I went to Cambria for our first anniversary. We stayed at The Olallieberry Inn (a CABBI inn) for three nights. I was enchanted with the town, the inn, the guests, and the entire experience.
We woke to coffee and enjoyed wonderful breakfasts each morning with fascinating people: a couple from New York who owned a bistro, a counselor from San Francisco, and others. We visited over breakfast, went off to explore the area, and then each evening, we would recall our day's discoveries.
After the second day, Rick and I were on the back porch enjoying the sunset with a glass of wine when I declared that "This is what I want to do!" He thought I meant drinking wine on the back porch forever. We still joke about it.
Upon our return home, I headed for the nearest book store and bought every book I could find on the subject of innkeeping. From there, I ordered every publication I could find. I even found a class at the local community college on "How to Become an Innkeeper." Rick began to think I was serious.
But life would get in the way, and we would get off track. It took us eight years to realize our dream. But in 1997, we bought our dream inn, The Grateful Bed in Chico, and started the renovation of our 1905 home.
In December 1998, we officially opened our doors and have never looked back. We have had a wonderful experience as innkeepers for 11 years and hope to continue for a while on our journey.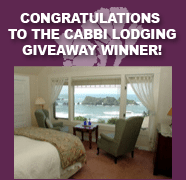 Congratulations to Robert Riley of Ashburn, Virginia. He is our most recent winner of a two-night stay at a CABBI inn courtesy of Sandpiper House Inn in Elk, CA near Mendocino.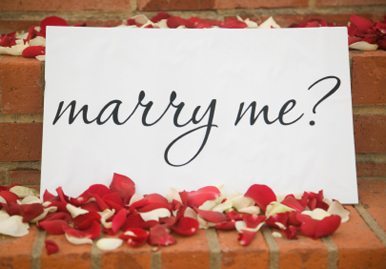 Best B&Bs to pop the question
Three years ago in Santa Barbara, Eagle Inn innkeeper Paul Bullock emerged from the ocean at sunset in full scuba gear—like a creature from the deep—and shuffled along the sand to an incredulous couple standing on the beach. Bullock, the owner and manager of The Eagle Inn Santa Barbara presented the couple with a large sea shell.
"I told them I'd found this unusual shell and that they should have it as a souvenir," said Bullock. "The man made a big deal of it, shook it, passed it to his girlfriend and said, 'it looks like there's something inside.'" The girlfriend opened the shell, and inside, she found an engagement ring. "I produced a bottle of champagne and left them to gaze into the sunset and their new life together," said Bullock.
CABBI innkeepers like Bullock pride themselves on the individualized service they can provide their guests, and since innkeepers tend have an eye for the romantic, they make great partners for pulling off memorable engagements.
Last spring, a U.S. Marine stationed in Afghanistan contacted the Casa Laguna Inn & Spa, Laguna Beach to request help with his engagement plans during a surprise visit home. He had arranged for the best friend of his girlfriend to bring her to the inn for a girls' weekend getaway. Casa Laguna's staff upgraded the Marine's reservation to the best room in the inn and suggested the property's bell tower as the best place to propose.
The staff decorated the bell tower room with flowers and candles and set out a bottle of champagne. After the two women arrived, the best friend told the marine's girlfriend that she needed to use the restroom and asked her to meet her up in the bell tower to see the view. Mounting the stairs, the girlfriend nearly stopped short because she was afraid the flowers and candles were for someone else, but the inn's general manager, Kathryn Mace said, "When her Marine stepped out into view, we could hear the girlfriend's screams echo across the Casa Laguna grounds."
The Mount View Inn & Spa in Napa added several personal touches to a couple's recent engagement, including filling the Jacuzzi tub and adding silk rose petals to the bath, placing a plate of truffles beside the tub, putting a bottle of Champagne on ice, lighting candles, tuning up a personalized iPod playlist, and leaving a dozen roses in the foyer with a note. Hotel Manager Cassi De Trinidad said, "When everything was set, we let them know their cottage was ready and sent them on their way." The woman read the note on the roses, which asked her to turn around, and she found her boyfriend waiting on bended knee.
The Napa Inn has assisted with dozens of engagements over the years, ranging from convincing a local restaurant to bake the ring into a raspberry soufflé to arranging an early morning hot-air balloon ride. Innkeeper Brooke Boyer said, "It makes us feel so special to be part of such a big event."

Captain's Inn at Moss Landing
Double Chocolate Oatmeal Cookies
Makes 24 cookies
1 1/2 cups sugar
2 sticks butter, softened
1 egg
1/2 cup water
1 teaspoon vanilla extract1 1/2 cups all-purpose flour
1/3 cup unsweetened cocoa powder1/2 teaspoon baking soda
1/2 teaspoon salt
3 cups old-fashioned rolled oats
6 ounces semi-sweet chocolate chips
1/4 cup chopped pecans
In a large bowl, cream together sugar and butter. Beat in eggs, water and vanilla. In a medium bowl, combine flour, cocoa, baking soda and salt; add to butter mixture and mix until well blended. Stir in oats, chocolate chips and pecans. Cover and chill dough for 1 hour.
Preheat oven to 350°F. Roll dough into balls, using about two tablespoons of dough per ball. Bake on a non-stick cookie sheet for 10-12 minutes.
For more delicious recipes from
CABBI-member inns, order our
CABBI Cookbook online at www.cabbi.com/cookbook.
Winter Outdoor Adventure Specials
The Cub Inn B&B has created the perfect ski package for cross-country ski enthusiasts. Stay at The Cub Inn B&B and enjoy the full hospitality of the inn. Be transported to and from some of the best untracked cross-country ski areas in Yosemite National Park and Stanislaus National Forest. Transportation includes full breakfast, hot beverages, hot soup and sandwiches for lunch, and evening refreshments back at the inn. All this for the standard 2009 Summer Rates with no add-ons. It's our way of thanking you for making our new log home B&B such a success in our first year.
Whether you want to glide across the ice-skating rink at Yosemite Valley, hit the slopes at Badger Ski Resort, or go sledding at Crane Flat, Hotel Charlotte has hot prices for winter fun. Their special winter rate of $99 plus tax per night includes a hot buffet breakfast. Must mention CABBI Special offer.
Sierra Mountain Lodge Bed & Breakfast's off-season weekly lodging rates are perfect for anyone who wants a week to explore Yosemite without breaking the budget. The Pine Suite has two queen beds, private bathroom, living room and kitchenette. Rate is for lodging Jan., Feb., March, April, Oct., Nov., Dec. for $450 week. Any consecutive seven days, no discount offered for less days. The Pine Suite can accommodate up to four guests, extra guests are $10 per night. Based on two person occupancy. Rate does not include breakfast or maid service. Excludes major holiday/holiday weeks, rates do not include tax.
Tuesdays are free at the McCaffrey House! The inn is an enchanting mountain lodge nestled in the quiet forest hollow of the High Sierras. Stay any three days that include a Tuesday and pay for only two. Must request at time of reservation. Subject to availability. Applies to selected rooms and new reservations only. All pricing is for double occupancy. Tax additional. Specials may not be combined. Holiday periods not included. Valid through March 31, 2010.
Gather around the hearth this winter at Eden Vale Inn below the snowline. Head up to the ski resorts (which are just an hour away) and then come back and snuggle by the fire. Receive 15% off with the Winter Special. Must call to book.
Take advantage of the Last Minute Winter Special at the 1859 National Historic Hotel. Book within 24 hours of arrival date and get a room for only $95! Based upon availability. Valid Sunday through Thursday nights. Not valid on holidays. Not available online.
The Dunbar House, 1880 is now offering a Winter Two Night Special. Book any two consecutive nights Sunday – Thursday between January 4, 2010 – March 4, 2010 and receive 50% off your second night. Please call 209-728-2897 to receive discount.