While people everywhere are adjusting to living with COVID there's something very reassuring seeing nature embrace its traditional seasonality. The Monarch butterfly migration in Santa Barbara is not only reassuring, but also quite beautiful. Although, like everything else in 2020, the migration will be a bit different this year.
The Migration
Every year these brightly-colored insects may seem to flutter aimlessly, but the truth is
they're on a solid migratory route. They are one of a few insects that make a two-way migration, similar to a birds' migrations heading north in the summer and south in the winter. Like many smart people, the Western North American Monarchs spend their winter in California before flying to the Pacific Northwest for summer. (Monarchs east of the Rockies winter in Mexico.)

Goleta
One of their most popular habitats has traditionally been in nearby Goleta. The Ellwood Mesa has been a destination for the butterflies and people who love them, but the Butterfly Grove was off limits due to the risk of dead and dying trees falling on people. The city has since reopened it with warnings, but check for updates. Officials have also created a simulated experience at Evergreen Park, that is open from October through March, the traditional migratory season when the monarchs are along the coast. The MOVES (Monarchs Overwintering Visual Experience Simulation) program includes displays that show butterfly clusters and educational boxes about the butterfly life cycle.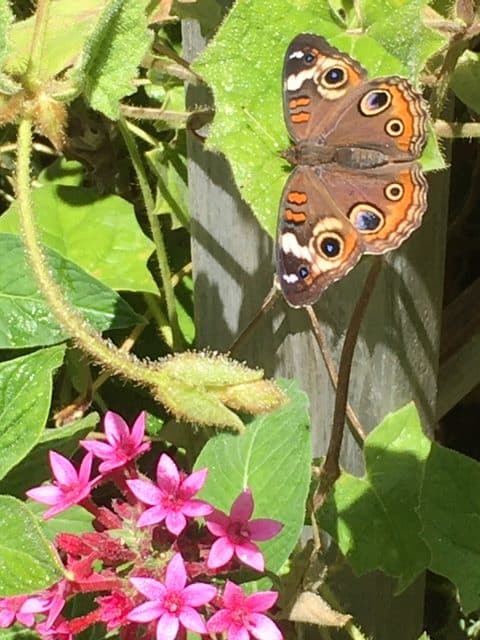 Goleta has been aggressive trying to resolve declining ecosystems as well as the reduction in migratory butterflies along the Pacific Coast. In February they held a butterfly conference that explained some of the challenges, as well as potential solutions to the current decline of migrating monarchs in Santa Barbara County. The fact-filled presentation delved into habitat loss, pesticide, disease and climate change and also offered solutions and citizen action (planting milkweed, supporting restoration effort, etc.) 
This local effort to address a national situation is indicative of the region's deep commitment to the environment. Ecological preservation is a key pillar throughout Santa Barbara and our neighboring communities. It's why our area maintains such beauty and is so appealing to visitors, as well as residents. While the huge migratory monarch gatherings, which traditionally clustered in eucalyptus groves, may not materialize this winter it's hoped the butterflies will still make a stop in our area. 
Santa Barbara Accommodations
Like the Monarch butterfly migration in Santa Barbara, you can take a deserved rest in sunny Santa Barbara this winter. Stay two nights in our popular Casitas or whirlpool king rooms midweek and get the third night free. With two-person spa tubs, fireplaces and breakfast delivered to your room this is the perfect way to shake off the winter doldrums. Book your stay soon because, like the monarchs, this offer will be gone March 30, 2021. Enter promo code "deal" upon checkout or call us directly at 805-965-3586 to enjoy this special offer.