Updated December 2022
It's hard to believe that the Santa Barbara Museum of Art's original building was the town's post office that had survived the 1925 earthquake. After more than seven renovations and additions, what are the best things about the Santa Barbara Museum of Art? With 60,000 square feet of space that includes galleries, a store, a 154-seat auditorium, a library, a space dedicated to participatory, interactive programming, and an off-site education facility, it's difficult to decide!
The museum now houses a collection that rivals museums in much larger cities in quantity and quality. The museum's galleries, events, and store have become must-visit destinations for locals and visitors. Here are the best things about visiting the Santa Barbara Museum of Art in California.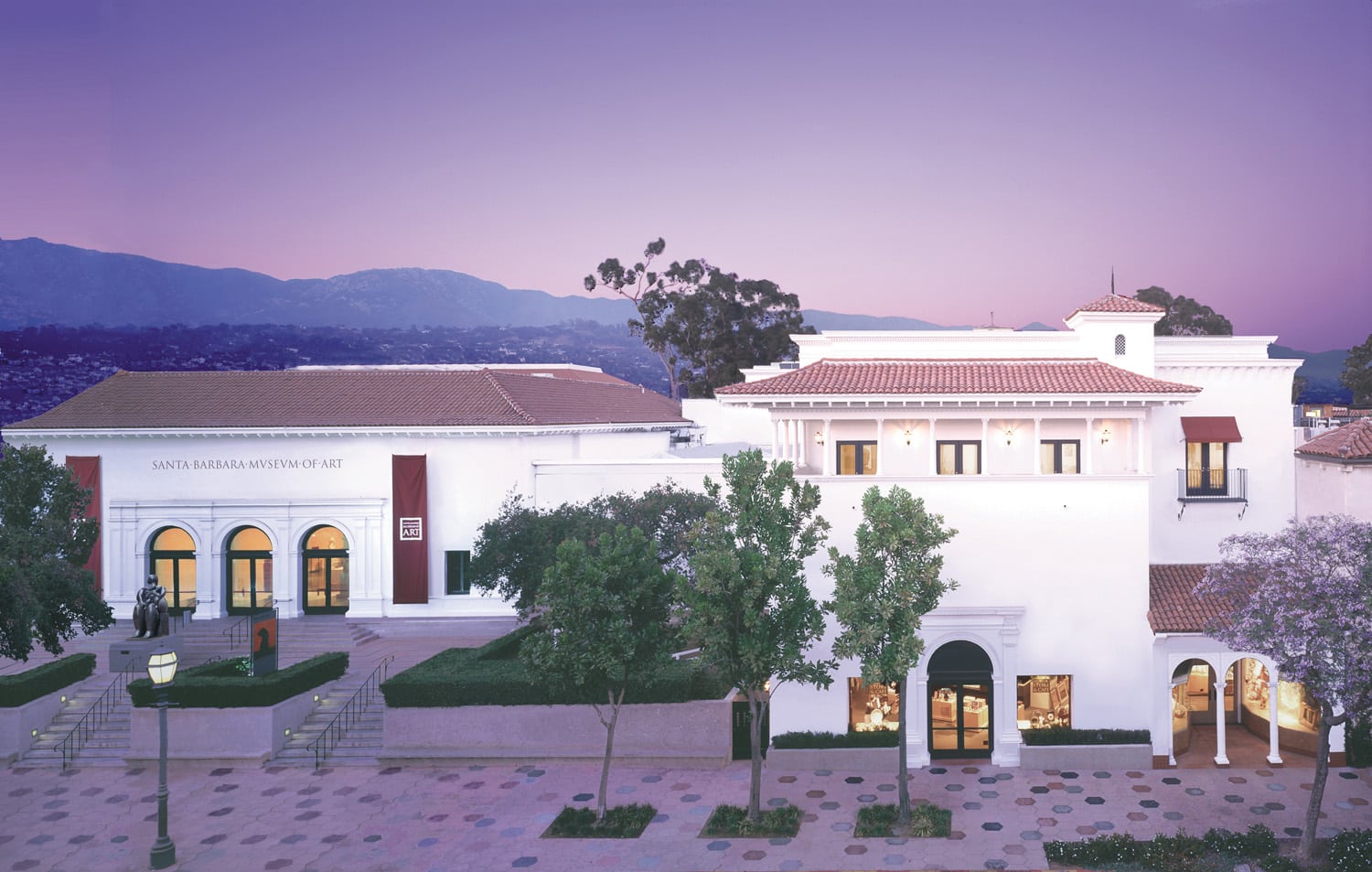 The Collection
The Museum's fabulous collection includes Renoir, Dali, Rodin, and Chagall. See Renoir's Woman in a White Chemise (1900), Dali's striking Honey is Sweeter than Blood (1941), Rodin's Eternal Spring (1884), and Chagall's Horse Woman (1945). There is also the most extensive Monet collection on the West Coast. Particular emphasis is given to American, Asian and Classical art; European painting and sculpture; and 20th-century art and photography.
Thursday Night Offerings are Extensive
While Santa Barbara's downtown celebrates First Thursdays with many events, the museum goes a bit further and celebrates every Thursday night with programs, many of which are free. The popular Art Matters lecture features a unique aspect of one artist's work. On alternating weeks the Writing in the Galleries and Sketching in the Galleries programs offer an opportunity to create their work throughout the museum and then gather afterward for sharing.
Learn from the Experts
The friendly docent-led tours are a great way to learn about the museum and are included with admission costs. They are held at 1 pm Tuesdays – Thursdays, 11:30 am and 1 pm Fridays – Sundays, and 1st and 3rd Thursdays at 6:30 pm. Meet at Ludington Court near the State Street entrance.
Community Partner Events – Onsite & Throughout Town
During community nights, the museum offers a full spectrum of cultural events. These include a pop-up performance at the museum by the Santa Barbara Opera. There are also collaborations with the Santa Barbara Symphony, the local library, the college, and many more institutions and groups. Programs are always free and vary each year. Upcoming events are featured in the museum newsletter.
Get Your Souvenirs
The Santa Barbara Art Museum Store consistently shows up on lists for where to find unique Holiday gifts. It offers beautiful handmade items and gifts unique to special exhibits. In addition, books and toys are plentiful and fun. Bring a special gift to the folks who couldn't join you in beautiful Santa Barbara, and you'll also be supporting this extraordinary institution.
Visit Details and Cost
Location: 1130 State Street
Admission: $10 adults
Hours: Tuesdays – Sundays 11 am – 5 pm | Thursdays 11 am – 8 pm | Closed Mondays
Free Thursday evenings 5 pm – 8 pm
While visiting us at The Eagle Inn, plan to stop by the Museum when you are downtown; it is just 1.5 miles away from the inn. It is hard to choose which are the best things about the Santa Barbara Art Museum — the variety of the collection, lectures, and classes offer something for almost everyone in the community.