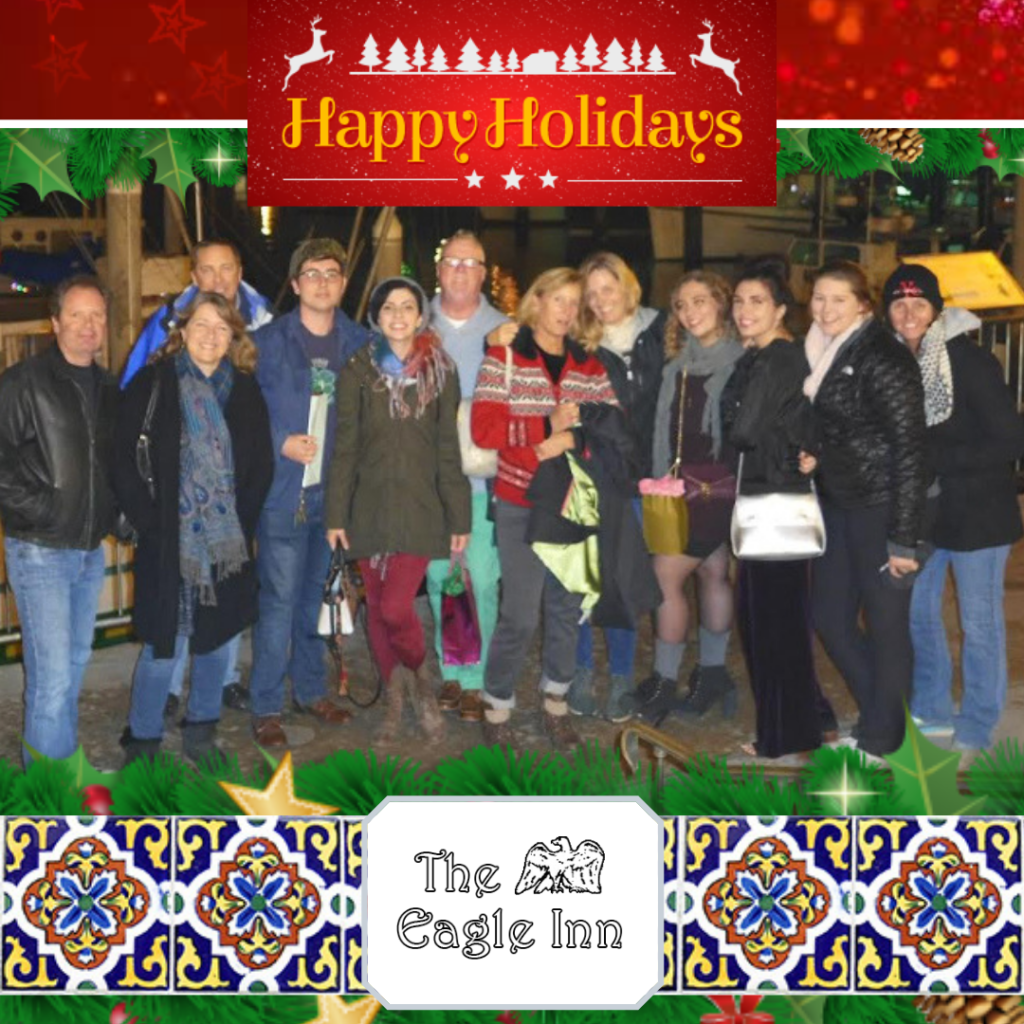 Dear Friends,
As the new year approaches, we would like to take this opportunity to extend our greetings and thank you for helping us become the #1 of 18 ranked B & B in Santa Barbara on Trip Advisor.
We're immensely grateful to our guests for leaving such wonderful reviews for our B and B. It's heartwarming to receive these comments from our guests, and really helps fuel our inspiration to be the best bed and breakfast in Santa Barbara.
The Eagle Inn strives to be your "home away from home", and provide guests with an unforgettable lodging experience. If you have any questions about planning a vacation in Santa Barbara, or about room pricing at our B&B, please be sure to give us a call or send an e-mail. There is always a friendly voice on hand to assist you.
Stay with us for the Holidays
If you are itching to explore more of what Santa Barbara has to offer, download our complimentary Santa Barbara Vacation Guide, "101 Free Things to Do in Santa Barbara," and get ready to get busy.   This Santa Barbara travel guide will help you learn more about the local attractions, including Paseo Nuevo Mall, Santa Barbara Museums, Local Theatres, Universities & Schools and more.
Your home away from home
Experience all that Santa Barbara offers by booking a room today. Enjoy free off-street parking, complimentary breakfast, wi-fi and much more >> see Top 10 Reasons To Stay At The Eagle Inn

SPECIAL OFFER >>  We are offering a flat rate price for stays before Dec, 30, 2018. Sunday – Thursday nights – any room $209 plus tax. Friday and Saturday nights any room $289 plus tax. Must be a first time guest, and place your booking via telephone directly with us. Offer expires 12/30/18.  Not valid with gift card purchases or any other offers.
Pick your dates soon and give us a call. At these prices, the best rooms won't last long. Call us at 805-965-3586 to make sure you get the room that will best suit your needs.
It has been a pleasure serving you throughout this past year and we look forward to exceeding your expectations in the New Year.
Have a wonderful Holiday season everyone,
Sincerely,
p.s.  Want a great gift idea?  Show your appreciation for a friend or co-worker with an Eagle Inn Gift Card. Click here to order a gift certificate using our online system, or to do it by phone, call us at (805) 965-3586 and place your order.
CALL US
(805) 965-3586
About The Eagle Inn: Located at 232 Natoma Avenue, Santa Barbara, CA, The Eagle Inn is one of the best beachside bed and breakfast hotels in Santa Barbara. Relax in comfortable surroundings just steps from the beach. Check the web site for last minute Santa Barbara hotel deals and hotel packages. Follow on Facebook for upcoming Santa Barbara events and Instagram for stunning photos.  Call the front desk at (805) 965-3586 to learn more about hotel discounts and local deals.