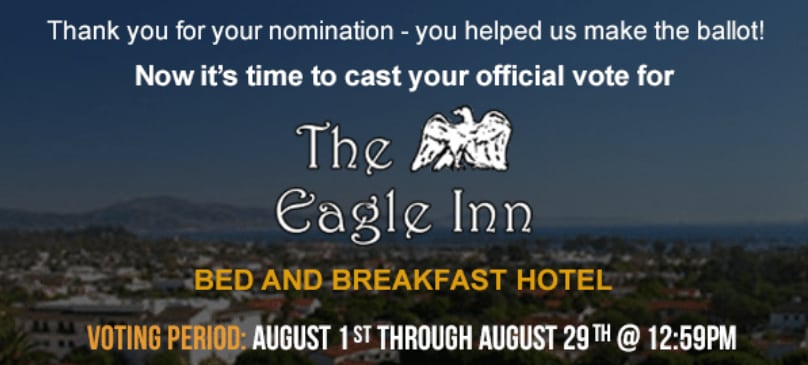 It's that time of the year again!
Cast your vote in the best of 2018 poll
Click Here To Vote For Us
Each voter must vote in 20 categories (minimum)
The ballot records your votes as you go
(you don't need to hit "Submit" anywhere)
Voting ends on Wednesday, August 29, 11:59pm
CATEGORY: ROMANCE >> BED & BREAKFAST INN
Thank you for your support!
Sincerely,
Paul and Staff
Phone: (805) 965-3586
Email: stay@theeagleinn.com
Web: http://TheEagleInn.com
p.s.  Want a great gift idea?  Show your appreciation for a friend or co-worker with an Eagle Inn Gift Card. Click here to order a gift certificate using our online system, or to do it by phone, call us at (805) 965-3586 and place your order.
CALL US
(805) 965-3586
CALL US
(805) 965-3586