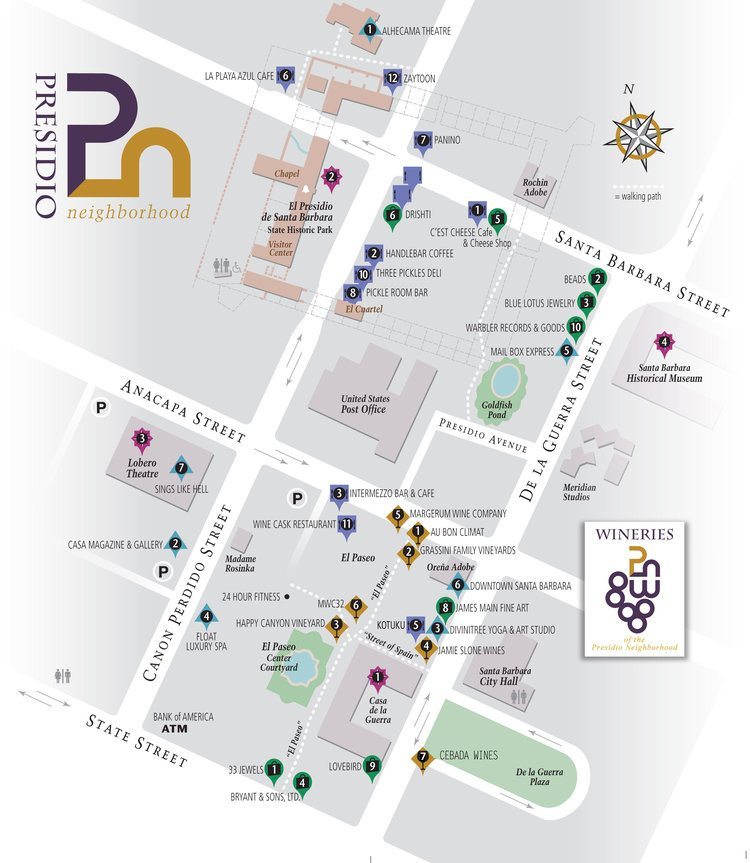 Are you interested in learning more about the vibrant cultural history of Santa Barbara?  Why not head over to "The Presidio Neighborhood?"  It's within walking distance from The Eagle Inn and worth checking out.
The Presidio Neighborhood is a vibrant few blocks in the heart of Santa Barbara, centered around the historical site of the last of the Spanish fortresses, or presidios, to be built in California. Encompassing what was also once the city's Chinatown and Japantown, the neighborhood is now home to a variety of locally owned, intriguing shops, wine tasting rooms, world class restaurants, casual eateries, bars, coffee houses, and cultural treasures. Walking the neighborhood rewards the visitor with discoveries of hidden walkways, courtyards, and amazing architectural details set against the backdrop of the American Riviera and the Santa Ynez mountains.
Take a step back in time and discover Santa Barbara's unique and rich history in the Presidio Neighborhood. Located in the middle of downtown Santa Barbara, this vibrant, bustling district is where Santa Barbara officially got its start.
Enjoy a self-guided or docent-led tour inside the Presidio walls and Casa de la Guerra, one of the first Royal Presidio army comandante homes, to gain insight into the daily lives of the city's founders. If you skip the tours, be sure to walk through parts of the de la Guerra home and El Cuartel — the second oldest building in California — to see how the early settlers lived and worked with their families.
Can't get enough Santa Barbara history? Visit the Santa Barbara Historical Museum where original relics and art pieces are displayed in rotation every few months from the vast collection housed in the 10,000-square-foot underground vault. Every trip to the museum guarantees a fresh perspective on Santa Barbara's history.
Wander through the catacomb-like hallways of Paseo de la Guerra, one of the oldest outdoor shopping arcades in California, for an afternoon of wine tasting. Half a dozen different tasting rooms make up the wineries of the Presidio Neighborhood and they await your expert palate and opinion.
Consider staying at The Eagle Inn for your next weekend getaway to Santa Barbara.  Don't leave your special weekend to chance. Book a room online or give us a call at (805) 965-3586.
Sincerely,
Paul and Staff
Phone: (805) 965-3586
Email: paul@theeagleinn.com
Web: http://TheEagleInn.com

About The Eagle Inn: Located at 232 Natoma Avenue, Santa Barbara, CA, The Eagle Inn is one of the best beach side bed and breakfast hotels in Santa Barbara. Relax in comfortable surroundings just steps from the beach. Check the web site for last minute Santa Barbara hotel deals and hotel packages. Follow on Facebook for upcoming Santa Barbara events and Instagram for stunning photos.  Call the front desk at (805) 965-3586 to learn more about hotel discounts and local deals.