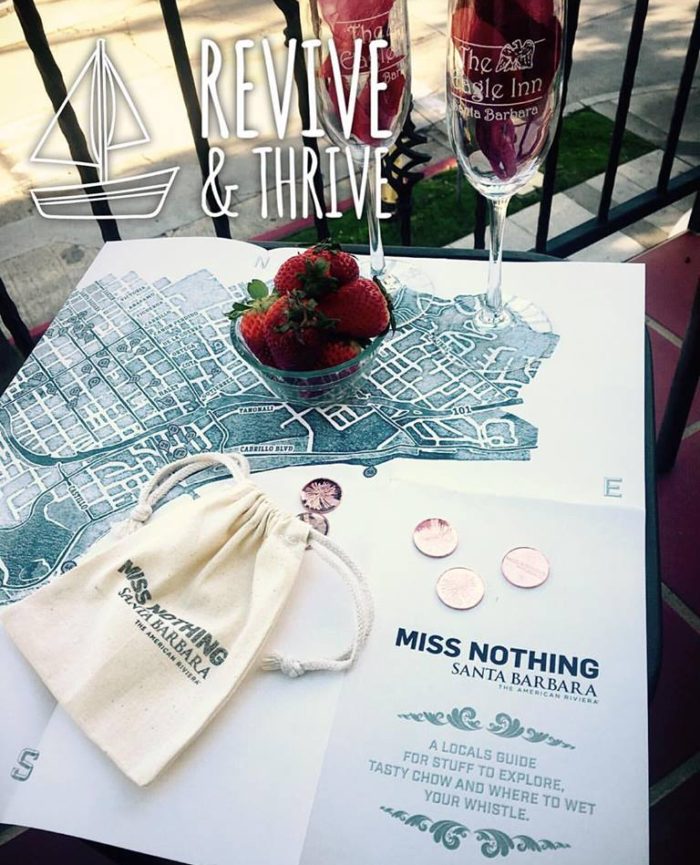 Looking for a Santa Barbara hotel deal for your romantic getaway?
Take advantage of our Revive & Thrive offer!
Not only do you get the third night free and a discount on our couples massage, you also get a little gift bag including the gorgeous Santa Barbara field guide and a bag of tokens used to redeem offers on local activities, restaurants and wine tastings. To take advantage of this offer, book your stay online and use promo code: REVIVE   Offer ends 3/31/17.
Want a great gift idea?
Show your appreciation for a friend or co-worker with an Eagle Inn Gift Card.
Click here to order a gift certificate using our online system, or to do it by phone, call us at (805) 965-3586 and place your order.
CALL US
(805) 965-3586

SPECIAL PACKAGES
We have a selection of delicious packages to choose from. Each is unique and offers a different way to make the most of your amorous time at the Eagle Inn. Enhance the feeling of pampered opulence by selecting one of our rooms or casitas with a fireplace & double size in-room whirlpool tub.  Packages can be reserved during our online reservation process.
Follow us on Instagram for beautiful photos of Santa Barbara!
About The Eagle Inn: Located at 232 Natoma Avenue, Santa Barbara, CA, The Eagle Inn is one of the best beach side bed and breakfast hotels in Santa Barbara. Relax in comfortable surroundings just steps from the beach. Check the web site for last minute Santa Barbara hotel deals and hotel packages. Follow on Facebook for upcoming Santa Barbara events and Instagram for stunning photos.  Call the front desk at (805) 965-3586 to learn more about hotel discounts and local deals.